During University term-time, we have one evening service at 7.00pm at St Oswald's Institute. Our evening meetings follow a simple format: opening worship, a talk engaging with Scripture, and more worship and response time.
If you have a testimony to share at Evening Worship, please chat to the meeting leader.
If it's near the beginning or end of term, you can check the Church Calendar to be sure whether Evening Worship is happening.
Our preaching series for this term is Enjoying God.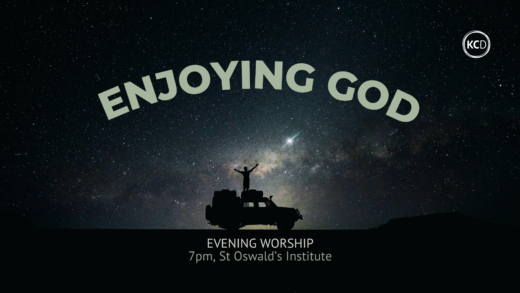 | | |
| --- | --- |
| Date | Title |
| 24 September | Enjoying God the Creator |
| 1 October | Enjoying Being a Child of God |
| 8 October | Enjoying Forgiveness at the Cross |
| 15 October | Enjoying God's Grace |
| 22 October | Enjoying the Gift of the Spirit |
| 29 October | Guest Service |
| 5 November | Enjoying the Communion of Saints |
| 12 November | Enjoying Justification Before God |
| 19 November | Enjoying Union with Christ |
| 26 November | Enjoying the Hope Held Out in the Gospel |
| 3 December | Carol Service |