Our main weekly gathering takes place every Sunday morning, 10.30am-12 noon at Dunelm House. You can watch the service online on YouTube.
Worship
Our meetings always begin with worship in order to bring our focus towards Jesus our King. We believe in giving space and time to praise God, to celebrate his work in creation, salvation and our future hope, and allowing him to speak to us through the Holy Spirit.
Get involved with our worship team.
Teaching
Also central to Sunday Mornings is the preaching of Scripture and our normal pattern is to work systematically through a book of the Bible.
See our current preaching series below, or you can listen to recent sermons.
Fellowship
Another important part of our meetings is the opportunity to have fellowship with one another and we encourage everyone to stay for drinks and snacks after the meeting.
Current Preaching Series
The preaching series for Autumn 2023 is 1 & 2 Thessalonians: First Words.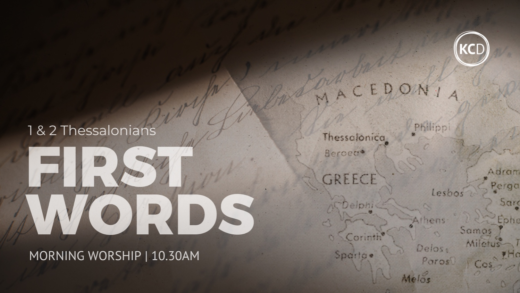 Date
Passage
Title
1 October
1 Thess 1.1-10
Faith, Love and Hope in Jesus
8 October
1 Thess 2.1-16
Called into His Kingdom and Glory
15 October
1 Thess 2.17-3.13
Not Labouring in Vain
22 October
1 Thess 4.1-12
Walking Upright
29 October
1 Thess 4.13-18
Coming with the Clouds
5 November
1 Thess 5.1-11
Living in the Light
12 November
1 Thess 5.12-28
Holy People, Holy Living
19 November
2 Thess 1.1-12
Worthy of His Kingdom
26 November
2 Thess 2.1-12
The Second Last Hour
3 December
2 Thess 2.13-3.5
The Steadfastness of Christ
10 December
2 Thess 3.6-17
Living Quietly and At Peace
17 December
Carol Service