Befriending Scheme
Introduction
Sherburn Road Friends and Neighbours is a free community visiting scheme, providing befriending and companionship to elderly or socially isolated members of the community in the Sherburn Road area. Our passion is to see the elderly and isolated in our community feel honoured, respected and a valuable part of the local community. 
Research has shown that the likelihood of experiencing social isolation rises with both age and deprived circumstance. Sherburn Road is in the top 6% of deprived estates according to the 2019 IMD, and our experience of living on the estate has made us aware of people who are really isolated and lonely. Loneliness is a huge problem both nationally and locally with real knock-on effects on people's physical and mental wellbeing – you can find out more here. Building and maintaining friendships are key to improving wellbeing and this is what we encourage through Sherburn Road Friends and Neighbours.
About us
The scheme began in 2014 as a response to the need for companionship and company, particularly among the elderly, that members of the Achor Community have experienced living on the estate. The befriending scheme currently visits 15 residents and is affiliated with Linking Lives, a national befriending scheme network. We are passionate about working in partnership with other organisations, such as the police, local community centres and others, and try to provide signposting to other appropriate groups and support. 
Out of the befriending scheme other initiatives to support those who are elderly and isolated have been developed. Firstly a Lunch Club was formed, in partnership with the Laurel Avenue Community Association, where members of our community can come and spend time together, forming friendships and taking part in activities. We have also established a garden befriending scheme for residents who would benefit from gardening support alongside befriending.
Sherburn Road Friends and Neighbours operates within the policies and procedures of the King's Church, including their privacy, safeguarding and confidentiality policies. For details of these please contact the church office.
Why befriending?
Let one of our Link Friends and Volunteers tell you how they have found being part of Sherburn Road Friends and Neighbours.
One Link Friend shared with us: 'I love it when she comes. We have a cup of tea and a chat. My volunteer is a really good listener and I love sharing stories with her' 
Her volunteer shared:  'She seems to really look forward to my visits, and we're getting to know each other really well.'
Referrals
Every person referred to our service will receive an initial assessment, and we will try to support those referred to us even if after further conversations they don't want befriending or already have enough support. Please see the diagram below for details of our referral process. Our criteria reflects our aim to reach older people who have little or no family or friend support, spending long periods of time alone. However, we are flexible and will welcome individuals as Link Friends if we feel they would benefit from the scheme, even if they don't meet all the criteria.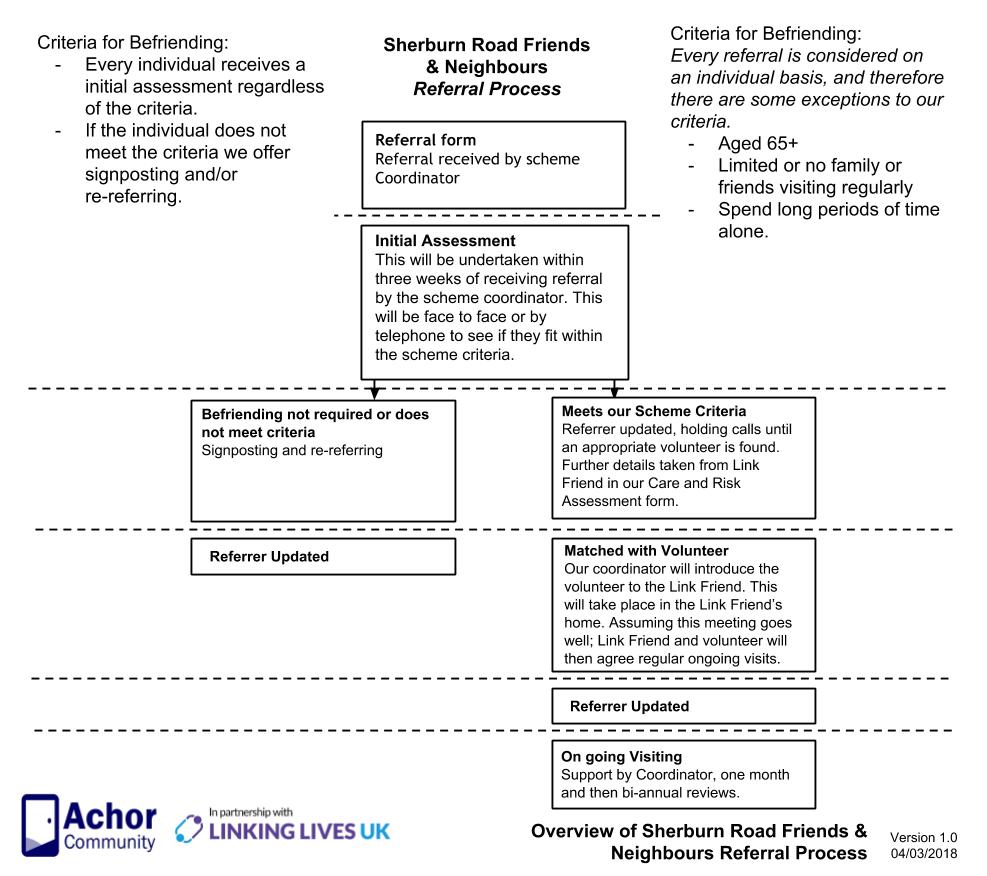 To complete a referral please use this secure form: bit.ly/SRFNclientreferral
Or contact us for a downloadable version.
Volunteering
Befriending is an amazing way to volunteer in the community. It makes a lasting, positive difference to both the Link Friend you spend time with, but also to yourself! It is a wonderful way to support and encourage someone else by enjoying a cup of tea, listening, sharing stories and participating in activities together. Befriending is a really rewarding experience and can really help reduce social isolation in the community.
For more information, please send us an email for our volunteer application pack!
To apply as a volunteer please fill in our volunteer application form: bit.ly/SRFNvolunteerapplication
Contact us
Get in touch!
Email: achor.coordinator@kcd.org.uk 
Phone: 01913 842018